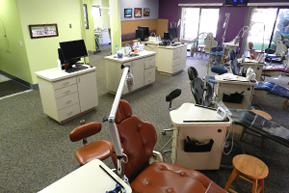 Clean open hygiene bays!
Our bright and sunny hygiene bay provides children fun and comfort of seeing others getting their teeth cleaned.  Parents are always welcome and have a comfortable seating area close to their children or they may sit right next to their children.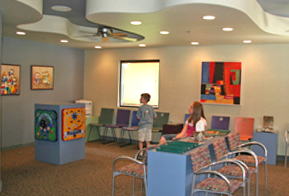 Child friendly waiting room
Our office has been designed with the needs of children and teens in mind.  For example, the waiting room is colorful with many activities for children and teens including movies on several screens.

Treatment Rooms
If your child needs treatment or a bit more privacy our treatment rooms are cheerful and spacious where your child will feel comfortable and safe.  All through our office we have movies playing to help keep your child entertained.
Come on in and find out more about us and our facilities. Meet the whole team and see what we're all about. You can even take a look around the office — virtually speaking, of course.
We are networked with a variety of PPO insurance plans.  If you have any questions please don't hesitate to contact our office (775) 824-2323.